Our researchers
Jo Lockwood (University of Nottingham), Camilla Babbage (University of Nottingham), Chris Greenhalgh (University of Nottingham), Marina Jirotka (Oxford University), Ellen Townsend (University of Nottingham)
Self-harm is a complex behaviour and we still have much to learn about it. There are many different factors that interact and evolve over time that may lead a young person to self-harm. There are not currently many evidence-based interventions to support young people who self-harm and most have not been co-developed with young people.
The card sort task for self-harm (

CaTS

)

 
CaTS helps young people tell the story of their self-harm journey by mapping the thoughts, feelings and events involved in a self-harm episode. A timeline is set out with multiple timepoints starting from 6 months prior to self-harm and ending after self-harm. Young people are provided with a bank of cards grouped into thoughts and feelings, events, behaviours, services and support, afterwards. Young people choose cards with items relevant to their experience of a self-harm episode at and arrange the cards along the timeline.   
CaTS was developed with a Young Person's Advisory Group (YPAG), based on research and clinical understanding. Young people have found the task helpful in exploring and explaining their personal stories and feel the task can help them communicate important information when they struggle to find the words. An online version of the CaTS was created in response to young people's feedback and we are now planning to develop CaTS into an app that can be used by clinicians, working together with young people who self-harm.  
We are aiming to co-create the CaTS-App as a new assessment and intervention tool.   
We will be working with young people and clinicians to explore how the app should look and feel, whether the original version of the CaTS tool requires adapting, and how it might best be used. We'll be running interviews, workshops and focus groups to do this work.  
With input from our wonderful Sprouting Minds group (the Digital Youth PPI group) we now have a plan for how to involve more young people in our coproduction work, where we will start to consider the design and materials of the CaTS-App.  Please see below for how to get involved.
In parallel, we are now inviting practitioners to share their views on the CaTS-App. This work is also helping us to inform how the CaTS-App might function and feel. 
If you are a practitioner who works with young people (aged 11-19) who self-harm, we'd love for you to tell us your thoughts! We have an option for you to get involved in a short, anonymous survey and/or a focus group with other professionals or a 1-2-1 interview.
We'd love to hear from colleagues across sectors, including:
health and social care, youth work (e.g. CAMHS, GPs, clinicians, A&E staff, social workers)
educational (e.g. teachers, MHSTs, EMHPs, school nurses, SENCOs)
third sector professionals (e.g. volunteers and staff)
and others who may have an interest in this area!
If you think you might like to get involved, please complete this online form which will give you the option to complete the survey and/or register interest for the focus groups/interviews: https://nottingham.onlinesurveys.ac.uk/practitioner-cats-survey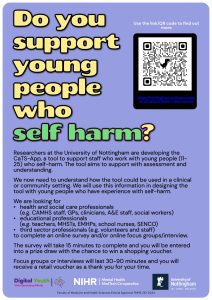 How young people can get involved
We have a sub-group of young people from Sprouting Minds who have been supporting us with coming up with the process for further involvement of young people in our co-production workshops.
These co-production workshops aim to gain feedback from young people on the look and feel of the CaTS-App, as well as how it might work across various settings. It is so important to have insight from young people on these details.
We're looking for:
Young people aged 16-21 years who have experience (current or in the past) with self-harm
To join up to 3 workshops in July
The first will take place in Nottingham on either the 30th June or 1st July (to be confirmed). The second and third take place online
You will not be asked to share any personal information about self-harm in the workshops, but to talk generally about how the app should look and function and be used
We offer a payment of up to £50 per person for taking part in the workshops
If this sounds like something you might be interested in, you can download information about the project here and register your interest here.