Digital Youth in Parliament highlighting the mental health risks of the digital world for young people
Digital Youth visited Parliament last week, sharing their expertise about young people's mental health in an online world.
Professor Chris Hollis and Nkem from our Sprouting Minds young persons' advisory group travelled to Westminster to speak to politicians and policymakers about the Digital Youth Programme and our research into the impact of the digital world on the mental health of young people.
Chris Hollis, Professor of Child and Adolescent Psychiatry at the University of Nottingham is co-lead of the Digital Youth Programme, along with Professor Ellen Townsend of the School of Psychology.
Chris and Nkem spoke to MPs, including Nottingham South MP Lilian Greenwood, about the importance of their research at Evidence Week in Parliament in November. Evidence Week brings together MPs, Peers, parliamentary services, researchers, and people from different walks of life across the UK to talk about why evidence matters in policymaking.
Professor Townsend said: "Our research, which is co-created with young people, will provide vital information for policy makers with regard to what is helpful and harmful in the online world, and which young people are most at risk."
"We are also developing a suite of new digital tools to help support good mental health and wellbeing in young people. These are sorely needed to help plug the gap between demand for youth mental health support and what services can currently offer," added Professor Hollis.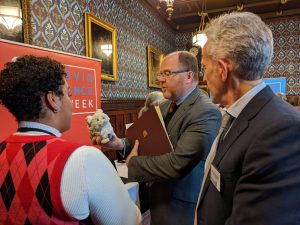 Presenting this research was a great opportunity to educate policymakers on evidence into young people's mental health while the Online Safety Bill passes through Parliament, and more widely encouraging the embedding of good mental health practices into all legislation. This is of vital importance as online spaces and social media create both risks and opportunities for young people's mental health.